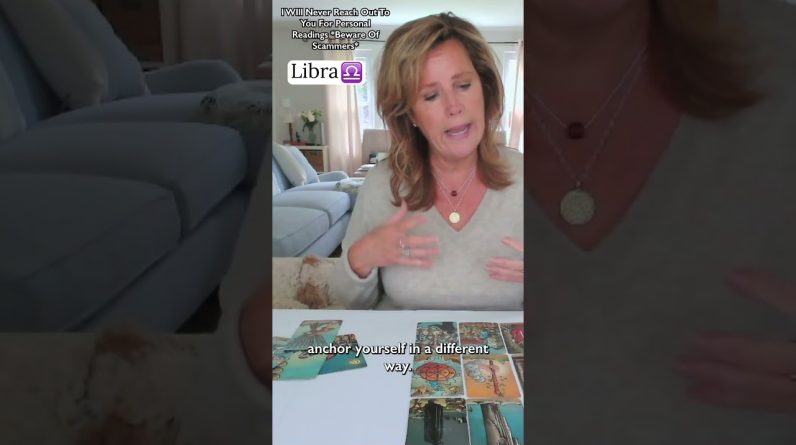 I, as an avid astrology enthusiast, am excited to kickstart this week's blog post with a focus on LIBRA – the seventh zodiac sign of the astrological calendar. As someone who shares this celestial alignment, I feel an immediate connection to the compelling energy and opportunities that lie ahead for us Libras in the month of September. So, join me as we dare to shake things up and seize the day with a dash of tarot guidance in this week's edition of Libra: Shake Up! Carpe Diem! #tarot #shorts.
LIBRA: Shake Up! Carpe Diem! | Weekly September Zodiac #tarot #shorts
Introduction
Hey there, fellow seekers of truth and guidance! I am thrilled to connect with you and share some of the cosmic wisdom that the celestial bodies have in store for the enchanting sign of Libra this week. As an intuitive guide and astrology enthusiast, I offer Soulful Revolution Memberships that bring healing and clarity to your life's journey. So, sit back, relax, and let's dive into the magical world of Libra in September!
Shake Up! Carpe Diem!
This week, dear Libras, the stars have a delightful surprise in store for you! It's time to shake things up, embrace the unexpected, and seize the day with gusto. The universe is urging you to step out of your comfort zone and welcome new experiences with open arms. Don't resist the winds of change; instead, dance with them and let your soul soar!
The Healing Heart Group and Birthchart Mastery
For those seeking spiritual growth and a deeper understanding of their cosmic blueprint, I invite you to join The Healing Heart Group and dive into the fascinating world of Birthchart Mastery. In these transformative spaces, you'll connect with like-minded souls and embark on a journey of self-discovery, intuition, and healing. Unlock the secrets of your birth chart and nurture your soul's evolution.
Ask Me Anything, Pathfinders Group
Are you feeling lost or in need of guidance? Have burning questions about your life's path? Fear not, for I am here to offer a helping hand. Join the incredible Pathfinders Group and ask me anything your curious heart desires. Together, we will navigate the twists and turns of your unique journey, illuminating the way towards self-realization and fulfillment.
YouTube Membership: Exclusive Content and Q&A Sessions
For those thirsty for exclusive content and soul-stirring Q&A sessions, I invite you to become a subscriber of my YouTube Membership. Dive into a treasure trove of enlightening videos, where I share my insights, conduct mesmerizing tarot readings, and guide you on your spiritual quest. Join our vibrant community where seekers like you come together to learn, grow, and be inspired.
Featured Classes: "Re-Program Your Subconscious MIND" and "Self-Love v. Self-Care"
This month, we have two captivating featured classes that will help you expand your consciousness and nourish your soul. In "Re-Program Your Subconscious MIND," you'll discover the power of your mind and learn techniques to rewrite outdated belief systems. And in "Self-Love v. Self-Care," you'll embark on a transformative journey toward embracing your worth and fostering a deep connection with yourself. Don't miss out on these life-altering lessons!
Let's recap what we've covered so far:
Embrace the unexpected and shake things up.
Join The Healing Heart Group for spiritual growth.
Unveil the secrets of your birth chart with Birthchart Mastery.
Seek guidance through the Pathfinders Group.
Subscribe to my YouTube Membership for exclusive content and Q&A sessions.
Enroll in featured classes like "Re-Program Your Subconscious MIND" and "Self-Love v. Self-Care".
Tarot Class and Karmic Pathway Bundle
Are you fascinated by the mystical world of tarot and eager to enhance your spiritual journey? Look no further! Explore my immersive Tarot Class, where you'll learn to read the cards, interpret their messages, and tap into your intuition. And if you're ready to dive even deeper, the Karmic Pathway Bundle is perfect for unraveling the intricacies of your karmic journey. Embark on a profound exploration of self with these invaluable learning resources.
Soul's on Fire Tarot Deck for Insightful Readings
Looking for that perfect tarot deck to accompany you on your spiritual quest? Look no further than the Soul's on Fire Tarot Deck! Crafted with love and intuition, this deck offers profound insights and illuminates the hidden aspects of your journey. Let the cards guide you and ignite the flames of your soul as you navigate the twists and turns of life.
Follow Soulful Revolution and Join The Empress Club Community
To stay connected and receive a daily dose of inspiration, follow Soulful Revolution on Instagram, Facebook, Pinterest, Twitter, and TikTok. Engage with our vibrant community, share your insights, and let the cosmic currents guide you towards a life of magic and authenticity. And if you're looking for a more intimate space to connect with fellow seekers, join The Empress Club community on Facebook.
Visit Our Website for More Information and Resources
Curious to explore more about Soulful Revolution, our offerings, and the transformative power of astrology? Head over to our website, where you'll find a treasure trove of information, blogs, and resources to fuel your spiritual journey. Let us be your guiding light as you navigate the cosmic dance and embark on a path of self-discovery, healing, and authenticity.
Conclusion
Libras, this September presents an exciting opportunity for growth, transformation, and embracing the unexpected. With the universe nudging you to shake up the status quo, it's time to step out of your comfort zone and seize the day. Whether you choose to explore our memberships, classes, or tarot readings, know that the path to self-discovery and healing lies within your reach. Embrace the journey, for it is yours to embark upon.
FAQs
Can I join Soulful Revolution if I'm not a Libra?
Absolutely! Soulful Revolution welcomes seekers from all walks of life, regardless of their zodiac sign. We believe that astrology is a tool for understanding oneself and the world around us, and we are here to guide you on your unique path.
How do I join The Healing Heart Group and Birthchart Mastery?
Joining The Healing Heart Group and Birthchart Mastery is simple! Visit our website and click on the respective membership links. Follow the prompts, provide the necessary information, and voila! You'll soon gain access to a world of spiritual growth and self-discovery.
Can I receive personal readings through social media or online comments?
Unfortunately, I do not offer personal readings through social media or online comments. For a more intimate and comprehensive reading, I recommend exploring our tarot classes or booking a private session through our website.
Are the YouTube Q&A sessions open to non-members?
The YouTube Q&A sessions are exclusively reserved for members of our YouTube community. Becoming a subscriber allows you to engage with the sessions, gain access to exclusive content, and be part of our vibrant community of seekers.
Is there a cost associated with the Karmic Pathway Bundle?
Yes, there is a nominal fee associated with the Karmic Pathway Bundle. The bundle offers in-depth insights into your karmic journey, allowing you to unlock the wisdom and lessons embedded within. Visit our website for pricing and more information.
So, my lovely Libras, embrace the winds of change, step into your authentic power, and seize the day. Remember, your journey is unique and beautiful, and I am here as your guide, friend, and confidant. Let's embark on this magical adventure together!