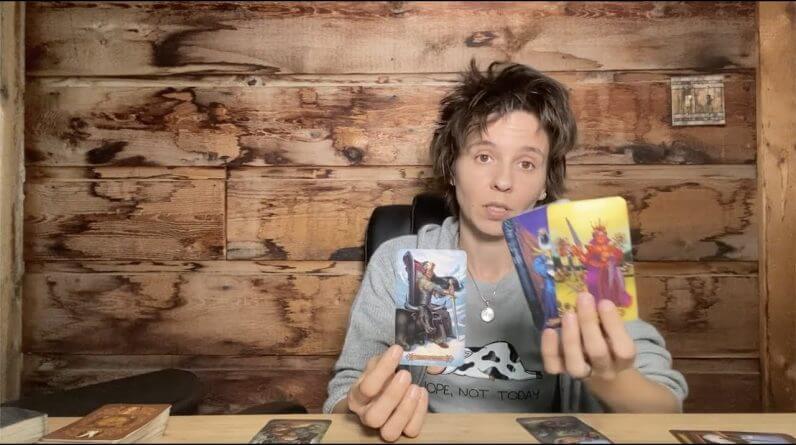 Taking It To Your Heart: The Month of Leo, 2013
THE HEART OF SUMMER! We know if a Fixed Organized Sign is on the Zodiac horizon, we are seriously settling into the current season. Leo beams into our center asking to indulge in the action of devotion, attracting the collective to be loyal, enjoy life, and most importantly: glow like our Sun, the planet behind our time within The Lion. Look to where he reigns in your Zodiac Pie to see where a protective, earnest, and creative spirit wishes to shine here in the month ahead.
Should I Get a Tarot Card Reading? (This May Change Your Mind)
How do tarot readings work? Can a psychic, intuitive or tarot reader REALLY get accurate information by phone, or without seeing you face to face? If so.
Full Moon in Aquarius – Unleash Your Creativity
Full Moon in Aquarius on July 22nd with intense aspects for the last week in July coming up! This Full Moon in Aquarius is at 0 degrees while the Sun is just going into Leo also at 0 degrees. This is a time of new beginnings, the opportunity to start fresh in all areas of your life.
How to Meet Your Personal Spirit Guide (And the 1 BIG "Lie" About Guides You Ought Ignore)
I believe that everyone has a personal spirit guide. A guardian angel or ancestral, energetic protector. No matter what you call them (or it) we've all got guides that are here to help us, guide us and make sure we stay on a path of PURPOSE and passion and dancing in the direction of our destiny.
Why Learn About Your Past Lives? (This May Change Your Mind)
I know that I'm a bit biased. As a past life intuitive and karma coach, I really believe that learning about past lives is the KEY to all spiritual health, wealth and authentic happiness. The truth is, in my own experience, we carry karmic "baggage" around from life time to life, reliving the same traumas, making the same mistakes, fighting with the same groups of "souls" and pretty much living each lifetime like a wild, weird and wacky version of "Groundhog Day" (the movie where Bill Murray was destined to…
How to Find the Perfect Psychic For YOU (And the BIG Mistake Most Spiritual Seekers Make)
What is the very best way to pick a psychic, medium or spiritual adviser? Are they ALL created equal? Should I just browse a whole bunch of online reviews and then pick the one that looks the best rated, most reviewed or has the most star power instead?
What Kind of Psychic Are You?
What sort of psychic abilities do you have? What kind of special powers do you secretly crave… or truly posses?
Do I Have a Guardian Angel?
What are guardian angels? Do I have one? What purpose do they serve?
3 Signs You've Got a Spirit Guide (And The EASIEST Way to Find Out Who It Is!)
Let's start with the good news first…
A Brief Introduction to the Planets in Astrology
In our solar system there are nine known major planets, and thousands of minor ones which we call asteroids. Planets orbit the Sun, and the orbit of a planet is called its cycle. The planets are at different distances from the Sun and so it follows that, from the Earth's perspective, they vary in the amount of time they take to complete their orbits.
Astrology Sun Sign Interpretations
With the Sun in Aries, you truly are a force of nature. Fiery, impulsive, and spontaneous, you restlessly seek an outlet for self-expression through action. You are a natural trailblazer who assumes the leadership role through your thirst for new experience and a hunger for recognition. However, this can bring conflict if you are the one receiving, not giving, the orders! No matter. How else can you prove yourself but through a healthy dose of competition?
Matching Flowers and Sun Signs
Did you know that each sun sign has a different flower suitable for it? Now you have a way to gift your loved one the perfect flowers even if you don't know which are her favourite.